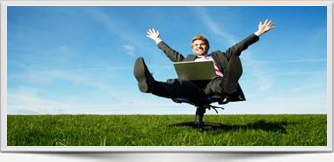 The average agent receives less than 10% of their business from their brokerage and less than 1% of that comes with additional strings attached (referral fees on top of commission splits). So, we wondered why the average agent hands over 25% or more of their hard-earned money in exchange for so little in return.

We formed The Virtual Realty Group to give agents a well-deserved alternative to both the "lopsided commission draining" and the challenges of going it alone (additional burdens, costs and lack of support).
In lieu of the traditional brick and mortar office, we offer a 3D Virtual Reality office which is just a fantastic experience. This all comes with better benefits, tools, coaching and the best 100% commission plans available in the industry.

With so much more income retained in the agents' pockets, they can generally afford home offices, shared executive suites or nicer private offices. Additionally, we have taken all of these imaginable tools (low-tech and high-tech) out of the physical office and put them in our one-of-a-kind Agent Online (Virtual) Backoffice which is accessible 24/7 from anywhere in the world.
Working smarter instead of harder has never been easier. Please contact us to learn more on why we just might be the best choice for you.
This page contains specific information regarding working interdependently and virtually. We are the Future of Real Estate Today and The Virtual Realty Group. We are the leader in virtual online real estate in many different states. We operate from coast to coast and Hawaii. We offer better benefits, tools and 100% commission plans for the independent-minded agent. All of our commission plans come standard with free E and O insurance, a free paperless transaction coordinator, a free personal lead generating website with IDX home search, free access to our in-house marketing and design department, the ability to be paid directly after a deal closes, an in-house escrow division, free virtual tours and single property websites and so much more. Check out all the tools, benefits, features and advantages we offer every agent with The Virtual Realty Group. 100% commission office, 100% commissions, virtual real estate, virtual real estate office, virtual broker, virtual realty, virtual office, 100% commission, the future of real estate, the future, earn 100% commission, virtual real estate brokerage, brokerages with 100% commission